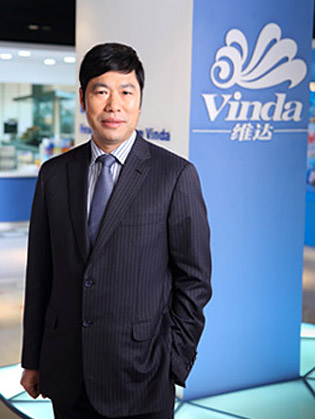 The year 2017 marks the 10th anniversary of our listing on the Hong Kong Stock Exchange. Over the past decade, Vinda has achieved remarkable results on production scale, new business segments, turnover and profitability. The Vinda brand has secured a leading market position. We have also proudly attained a higher standard of corporate governance and sustainable development, which is a clear reflection of the ceaseless dedication and efforts of every member of Vinda. Taking this opportunity, I would like to express my sincere gratitude to our consumers, customers, suppliers, local governments, staff and investors for their strong support and assistance.
While it's been a full decade since our listing, it still remains a fresh memory for me. Today we have realised our promise to investors, proven by not only expanded paper-making capacity and regional markets, but also our enhanced brand equity, product quality and efficiencies. Our next step will be to build on the achievements we had made and take Vinda up to the next level. In the coming one to two decades, we aspire to build a broader blueprint from covering 1.4 billion to 2.0 billion of target consumers across Southeast Asia. Vinda will scale up from a tissue-focused company to a full-fledged hygiene company in Asia focusing on tissue, incontinence care, feminine care and baby care segments. We will also fortify our market-leading position by enlarging the tissue sales base and increasing the proportion of high value-added and non-roll products.
In 2017, we and our peers were under pressure against the backdrop of increased pulp costs. However, with our optimised product mix, diversified marketing activities and product innovation, we nonetheless managed to deliver satisfactory organic growth in sales. In the long run, we are optimistic about the prospects for the incontinence market in China. Additionally, we have introduced a feminine care brand from Europe to the China market. All of these measures have brought us endless opportunities for future development.
The report of the 19th CPC National Congress highlights "The people's ever-growing needs for a better life" and "The healthy China initiative". We therefore expect a higher demand for quality hygiene products to improve people's daily lives. Demand for tissue and personal care products is no exception. In view of this, we will leverage our brand strength, innovative technology and quality products to seize every opportunity that arises from the growing FMCG industry.
The concept of "Lucid waters and lush mountains are invaluable assets" put forward by the China Central Government indicates that sustainable development is critical for China's society in long run. In fact, sustainability is one of Vinda's core principles. We adhere closely to sustainable models and low carbon operations. Profitability is not the only KPI for Vinda, the commitment and obligation on sustainable development are equally important. In 2017, Vinda was selected as a constituent of the Hang Seng Corporate Sustainability Benchmark Index, a clear recognition of our relentless efforts at environmental protection, social responsibility and corporate governance. As Chairman of the Group, I take great pride in that achievement.
Looking ahead, we, as always, will strive to achieve beyond expectation. We are committed to maintaining our reputation for world class excellence as a respectful enterprise in the hygiene products sector and build a brilliant future in the following decade.