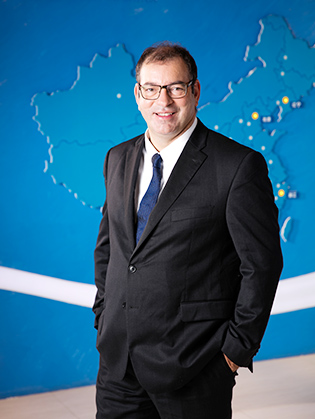 The year 2017 was Vinda's 10th anniversary of listing in capital market. Over the last decade, we at Vinda have been striving to stay ahead in an evolving traditional industry by leveraging our competitive edge advantages in: branding, sales networks, talent, production scale, and innovation. Today, Vinda's revenue has risen sevenfold compared to that of 10 years ago. Our brand portfolio expanded from a single tissue brand all the way to multiple top-notch personal care brands. We are currently not only eyeing the mainland China market but also actively seeking out the tremendous opportunities that exist in Southeast Asia, Taiwan and Korea.
In 2017, Vinda once again well-demonstrated its ability to grow amidst a challenging business operating environment. In China, we continued to record double-digit organic growth in revenue, with both Tissue and Personal Care making contributions. The Vinda and Tempo brands together have reinforced our leading market position in the tissue sector despite fierce competition. Our incontinence care business saw increased sales through institutional channels and e-platforms. The re-launch of the Libresse brand coupled with the excellent execution of the VIA marketing campaign also contributed greatly to the stellar growth in our feminine care business. In addition, our initial roll-out of tissue products to Malaysia has received positive feedback from customers. On the supply chain side, we have put 60,000 tons of new production capacity into operation as planned, and have tightened the logistics cooperation with our customers. Our efforts to strengthen corporate governance, enhance environmental protection and deepen community involvement have all led to our selection as a constituent member of the Hang Seng Corporate Sustainability Benchmark Index.
Nevertheless, we also faced a number of challenges in 2017, namely a significant increase in wood pulp cost, continuing market competition, uncertainty of currency exchange, the shifting of sales channels etc. However, through our continuous portfolio management and various cost-saving initiatives coupled with improvement in production efficiency, we have been able to mitigate certain negative impact brought by the increased costs. While our financing strategy successfully reduced gearing levels and foreign exchange losses, our working capital management also saw improvement.
The key of our current and future success is the focus we have on consumers and their needs in combination with strong innovation capabilities. In 2017, we started several innovation projects to enhance the functionality and profitability of our product offerings. For example, we applied new embossing technology to our tissue products while also enhancing the comfort level of our incontinent and feminine care pants lines. These and other key innovation initiatives not only defended our market position over the short term, but will also help improve our long-term future profitability.
While we celebrate the past, our focus is on the future. Just like it did in 2007, the world will continue to face many challenges and opportunities over the coming decade. First and foremost, we expect that China will remain one of the fastest growing economies and consumer markets in the world. Its middle class continues to grow dramatically and urbanisation across the country is relentless. Secondly, the digital revolution will favour e-channels. While brands scramble to capture a slice of the pie, they will also require a more efficient and advanced inventory management systems to facilitate their logistics. Thirdly, higher standards and compliance with respect to sustainability and corporate governance are being introduced with tighter enforcement. Manufacturing will also be under immense scrutiny to reduce emissions, water consumption, materials and non-recyclable waste. Sourcing will ultimately focus on sustainable goods as well as ethical supplies and suppliers. All these trends will profoundly change the way we do business in the future, and will open up tremendous growth opportunities. In a bid to stand out, we will work hard to sharpen our strategies to build distinctive brands with innovation support. We will also actively seek to extend our sales footprints with deeper penetration inside and outside of China while at the same time develop our people at all levels to help secure the best talent pool possible. In addition, we will work to improve cost efficiency throughout our supply chain to ensure continued competitiveness. Corporate governance and environmental protection will remain a top priority. Our four financial objectives are: to drive top-line growth; to broaden the gross margin through better portfolio management; to maintain operating margin and to improve the return on capital employed.
As we confidently move forward to become a leading hygiene company in Asia over the next decade, I would like to take this opportunity, on behalf of everyone at Vinda, to extend gratitude to our investors for their confidence in us over the years as we strive hard to achieve good results.